Hot Stones Spa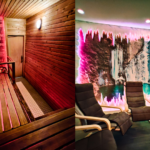 13075 156 Street Northwest
Edmonton
Alberta
T5V 0A2
CA
Hot Stones Spa is Edmonton's first and only European Style Sauna and ACTIVE Salt Room. Enjoy a private sauna session with your close friends and family only for 95$ per hour, OR spend a high quality time in a romantic setting with your loved one at 150$ for 2.0 hr. Call now for bookings!
Note:
At Hot Stones Spa, we have four wellness rooms (120 sq ft) for rent at 750$/month with a minimum 6-month lease term. The rooms are located on the top floor with a single washroom (the second washroom is located on the floor below). The space shall be used for the health and wellness services (preferred, but we can consider other services). The rooms come with the minimum equipment for massage therapy (see the pictures attached), but if needed we can empty it for you.
Benefits of renting a spa booth with us:
1) Affordable monthly rent.
2) Flexibility: work on your schedule.
3) No membership requirements for you or your clients.
4) Utilities and internet (WIFI) are included in rent.
Send us a private message on Facebook or email at
hotstonespaca@gmail.com
if you are interested in renting a room with us.